---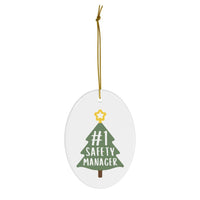 #1 Safety Manager - Christmas Ornament
Inspire Safety
#1 Safety Manager - Festive Holiday and Christmas Tree Ornament
We've designed one of a kind Safety themed Christmas decorations to bring safety inspiration your home, office holiday party, or as a gift to your team members. These ceramic ornaments should be attached securely to the tree to ensure that they're cat- and child-proof.
Front and back
0.15" (4mm) thick high-quality porcelain
Hanging hole
Comes with a ribbon for hanging
Circle ornaments are 2.76 inches in size
Oval ornaments are 2.76 x 3.23 inches in size
Premium Print Posters - Our safety posters are perfect for the shop, job site, or break room! We use amazing Epson Ultra Premium Luster Photo Paper to create the perfect balance between a gloss and matte finish. The result is a durable, high quality print that is resistant to fingerprints and worthy of the important safety message you'll want to share with your team.
Framed Posters - Framed safety posters are perfect for any area where presentation and message are both important! Printed on museum-quality durable matte paper then framed in a light semi-hardwood frame. Get their attention and deliver your safety messages while staying sharp, polished, and professional.
Canvas Prints - Safety starts at the top! Show your commitment to safety by featuring a important safety message as an elegant statement piece and artwork in your corporate office, conference room, lobby, or meeting space. Printed on textured and fade-resistant 20.5 mil thick canvas and then hand glued using solid wood stretcher bars. You'll be proud to share your safety message with your team, customers, and visitors.